Operation Constellation

pasted-from-clipboard.png

CAM ON INGERLAND *BAM BAM* BONK SOME FACKING JERRIES!!! *BAM BAM*
When?
Date >>> Probably 24.07.2021
Tech-Support >>> an hour before mission start
Event start >>> ~ 7:45 PM CEST
Mission start >>> ~ 8 PM CEST
Minimum players >>> 6 + Zeus
---
Index
Mission Details + Briefing
Slot List
Information
---
Mission Details
Date: May 1944
Map: Sark, Channel Islands
Time: 0600
Weather: Storm
The Channel Islands just off the coast of France are part of the United Kingdom, but have been under German occupation since June 1940. The Germans quickly turned the small islands into formidable fortresses which hold a sizeable German garrison. Plans were drawn up in 1943 for a future liberation of the islands, codenamed Operation Constellation. In order to secure the success of the upcoming Operation Overlord it is vital that the German presence on the islands is weakened - otherwise they might pose a serious threat to the invasion fleet.

Briefing

As Bri'ish Commandos you have been tasked to perform a raid on the island of Sark. Your main task will be the destruction of key German defenses in order to prepare for a future invasion of the island. You will insert by boat on the eastern coast, after which you will proceed to make contact with the local resistance - codenamed Chav - to receive information about the location of German positions. During your mission you will be able to call in naval support from the battleship HMS Cocklesnatch. However be wary to avoid hitting civilian targets as the weather will surely affect the shells. Godspeed and good luck gentlemen.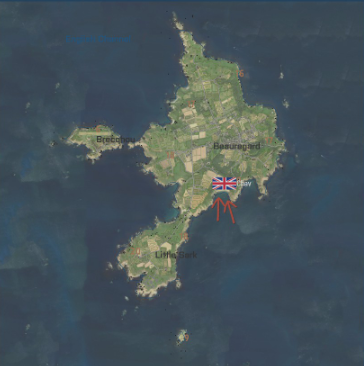 ---


Slot List
Team Leader - Jeroen
MG Gunner (Bren) - IndeedABrenMachineGunIsWhatINeed
AT (PIAT) - Killerfish (maybe)
Explosive Specialist - Toast
Radioman - Moony
Medic x2 - Lucas
Rifleman (Rest of the slots) - Frascaline (if thats what you mean with pew pew) + Archangel + Rico (Possibly Co-Zeus)

Duo-Zeus requests are open from 8+ players as usual.
---
Information
Mods


NOTE: THE WW2 REPO IS REQUIRED!!! IF YOU DONT HAVE THIS DOWNLOADED ON TIME YOU CAN NOT JOIN.
---
Other Information
Respawn takes 2 minutes.
A full Bri'ish arsenal will be available, however I ask you to keep your attire a bit relevant for muh immersion.
A dedicated radioman must be assigned for contact with High Command, they will carry a radio on their back. The rest has no radio's.