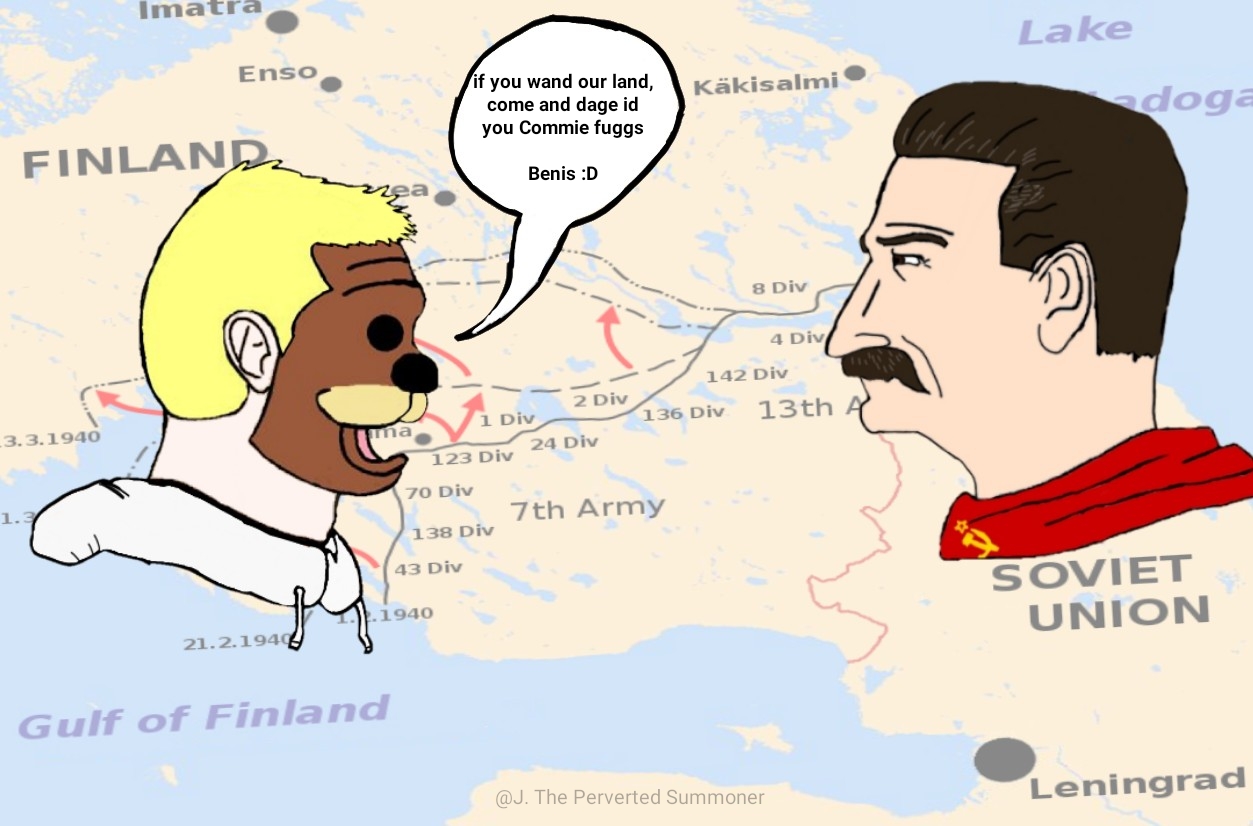 When?
Date >>> TBD

Tech-Support >>> an hour before mission start
Event start >>> ~ 7:45 PM CEST
Mission start >>> ~ 8 PM CEST
Minimum players >>> 6 + Zeus
---
Index
Mission Details

Slot List

Information
---
Mission Details
Date: December 1939

Map: Ihantala Winter

Time: 1200
Weather: Snowing
The enemy is attempting to break through the Mannerheim Line, you must hold the line against the communist invaders at any cost. There are three primary lines of defence:

1. Saatana Line
2. Vittu Line
3. Perkele Line

You are only authorized to retreat when the defensive position is untenable or when directly ordered by High Command. High Command will also inform you of any secondary objectives or targets of opportunity. The enemy will most likely make use of combined elements to attempt a breakthrough, expect enemy infantry and armoured units backed up by artillery and air support. Your unit will have a dedicated radioman that is able to communicate with High Command and call in (limited) artillery support. Additional information will be provided on the field.



---

Slot List
Team Leader -

Medic (x2) -

Radioman (x1) - Möömer

Machine Gunner (x1) -

Rifleman (rest of the slots) -

If we somehow manage to get 8+ players I am open to duo-zeus requests.

---
Information
Mods
Subject to change, Northern Front mods will be added to the repository when a date for the mission is set.



NOTE: THE WW2 REPO IS REQUIRED!!! IF YOU DONT HAVE THIS DOWNLOADED ON TIME YOU CAN NOT JOIN. | Also be advised that you will have to download two additional mods



---
Other Information
Respawn takes 2 minutes.

The radioman role will be the only person to carry a radio and able to contact High Command.

If you are KIA you will respawn at the next line of defence. You are allowed to move back to the previous line at your own risk unless ordered otherwise.